Taut vs Drapy Fabrics: Combining for Congruence
This vest is on sale at Gap. Click on the picture to buy. Contact me if you need a place to have it shipped to. :)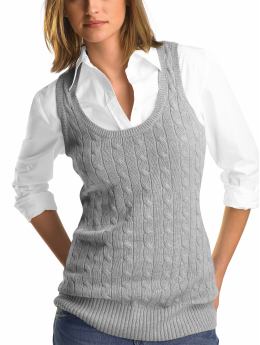 Maybe we're all sick of discussing
taut vs drapy fabrics and relating them to the body
, but I still have a few ideas left in my brain that make some sense. After that, I throw up my hands and declare, "cashmere and stretch cotton for everybody!"
As I explained
in this recent post
, my own body-type, speaking now of fleshiness vs angularity, is combination: straight on top, curvy on bottom. What about the combination pictured makes it so
right
for me?


The crispy white shirt, which is what I need most and should buy with my remaining birthday money, would both support and hide the straight lines in my upper body.

(What could be grosser than a smooth, drapy, lightweight tee-shirt with collar bones showing through? Okay, maybe a smooth, drapy, lightweight tee-shirt with

rolls

showing through. But it's close!)


Although barely visible here, the jeans appear to be more on the softly broken-in side. And clearly heavier weight than the crispy white shirt.

I'm beginning to suspect that my distaste for drapy fabrics on bottom is because the fabrics I am picturing are too lightweight for my body-type. In terms of jeans, softer, either because of wear or spandex, seems better.


The vest, being both soft and medium-weight, seems to link the top and bottom harmoniously.

And note the patterning created by the combination of vertical ribbing and cables. Because my face is primarily vertical, with some rounded features, this is good. All cables, however, emphasizes the tip of my nose. Crazy!
Actually, there are a few other things I like about this combination as well, but since I'm not writing a book here, I'll stop now.
Your turn. Does this give you any ideas?